Archery Lessons
Classes run in 3 sessions of 10-14 lessons, and last for 1.5 hours. They typically run

Wednesday

, Thursdays, and Saturdays. The sessions are as follows: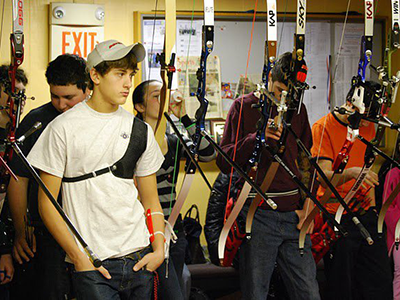 Fall (September – December)
Winter (January – March)
Spring (April – June)
Note: Beginners must take some private or semi-private/group lessons before they can participate in class sessions.
Semi-Private/Small Group Lessons: Scheduled by appointment Monday through Saturday, group and semi-private lessons are ideal for archers of any experience level. Families can also take advantage of small group lessons to learn about archery together.
Private Lessons: These one-on-one lessons are ideal for archers of any proficiency level. They can be scheduled Monday through Saturday, and typically run for one hour. Lessons are scheduled by appointment.
Camp: During the summer, we offer a camp in addition to regular classes. This program lasts for several weeks and runs in July and August. Perfect for kids of all ages!
What is JOAD?
Junior Olympic Archery Development (JOAD) is a program of USA Archery that teaches archery to young people, provides great opportunities for awarding achievement, and helps archers to enjoy the sport recreationally or progress to the excitement of competition!
JOAD offers both recurve and compound archers the opportunity to learn range safety and proper shooting technique in an environment that also fosters focus, increased self-confidence, and team building skills. JOAD is open to any youth archer aged 8 to 20 and is designed to grow with the youth archer. Introductory JOAD classes teach the fundamentals of proper shooting form; as the young archer develops, they will learn more advanced techniques.