Meet the Coach
Head Coach and Director of the New Jersey School of Archery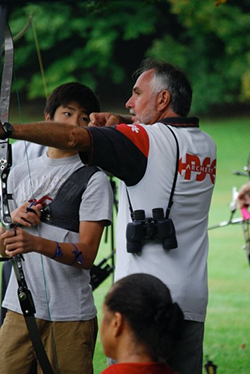 Mike Usherenko trained in the former Soviet Union as an archer and an archery coach. He serves as a USA Archery team coach at national and international events. He is the personal coach of Olympic bronze medal winner Khatuna Lorig, who finished fifth in the Beijing Olympics in 2008 and fourth at the 2012 Olympics held in London. He coached the women's team to a silver medal in a 2011 World Cup event and a bronze medal in 2010.
At the New Jersey School of Archery, every new student begins with a private lesson from Mike in order to provide each archer with a solid foundation in the basics and to determine each individual's goals in the sport.
"Usherenko has focused on the development of archers on the international, national and local level, with several of his students achieving national podium finishes in youth, collegiate and adult competitions. As a coach at three of four World Cup events in 2013, as well as past World Championships and Olympic Games, Usherenko brings a distinguished coaching record to his work with local students at the New Jersey School of Archery JOAD Club. With over 400 students, Usherenko has encouraged participation at all levels of the sport."
-USA Archery
National Coach of the Year 2013
National Coach of the Year 2008

US Assistant Coach for the following events.
2012 World Cup Ogden
2012 World Cup Antalya
2012 World Cup Shanghai
2011 World Championships
2011 World Cup Antalya
2010 World Cup Antalya
2010 World Cup Porec
2007 World Championships
2007 Olympic Test Event International Tournament